A short report from Jerusalem STT from Ruthy
To all the movement Intelligence community who are waiting to hear about the Senior Trainer Training in Jerusalem Israel, May 2014. Organization by Nancy Aidelman, who all agreed did perfect job with warm heart. the place was Kibuz Zuba, 25 Min from Jerusalem, in their beautiful fresh air hostel with inspiring landscape and pleasurable attitude.
This meeting was an impressive and vital statement of the trainers and country directors who are committed to the Movement Intelligence future.
The meeting included:
1.
Mindful Eating
-- The inner game of chewing, optional workshop May 7-11, graduates were certified as ME Mentors.
2.
Senior Trainer Training
May 11-16, graduates were certified as Movement Intelligence Senior trainers, recharged with renewed collective energy toward the assignment.
3.
A tour of Israel
(Optional) from Masada in the southern desert to the north border with Lebanon
There were 46 active and vibrant people present from 20 countries: Argentina, Australia, Austria, Belgium, Canada, Chile, France, Germany, Hong-Kong, Israel, Italy, Japan, Korea, Spain, Sweden, Switzerland, Taiwan, UK, Uruguay, USA.
Missing were, Brazil, Croatia, Holland, Ireland, Mexico, New-Zealand, Poland, Thailand, Turkey.
The work of the Senior training Seminar was done by the participants themselves, like a Mega didactic in small groups, and they were very enthusiastic about it. As the MI future leadership that will certify the next generation of trainers, they were sitting around round tables, discussing different themes and forming the Trainer Training content that they are going to guide, as well as dealing with administrative issues of the general program that trainers need to know.
To Start all participants at the different tables were going over all MI programs' indexes and listed values, main themes, competencies, concepts, strategies, Somatic learning principles, choosing the 10 preferred processes, as an overview of the learning material.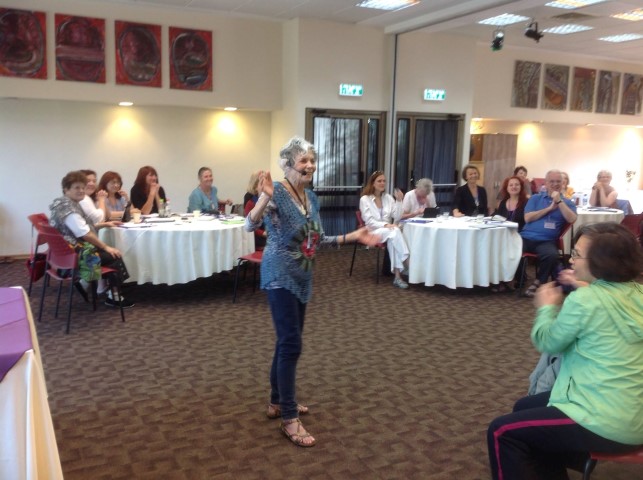 The great thing that happened was to see people who did not know each other before, and which don't speak the same language, immediately cooperated together, having the common language of the processes names of the program. They were so enthusiastic in their involvement, that at 6 o'clock no one wanted to get up for the supper break, even though for some of them this was the very first day of arriving to Israel. This kind of devotion marked the whole seminar.
The other days every table got another issue to discuss, and then presented their suggestions, both verbally and written on board, hanged on the walls. Some of these themes are left for completion as homework.
My intention was to put the program at the hands of the people who will do it , to hear how they see it and what they suggest. They embraced it with open hands. Their response was assuring the viable basis we have built together, all of us, in the last 18 years.
Some of the Educational themes were
:
Manuals Policy
-- suggested for professional course fee will be calculated in the course fee, to share half/half between Ruthy's Royalty and the country director after deducting printing expenses, maybe even sent online? Many trainers are volunteering free, short hands out as they teach the first level.
Horizontal Vs. Vertical Teaching
-- Highly suggested the freedom to choose teaching all basic, advanced, didactic, mentoring and practice as one continued entity, in same total hours of each program, (BFL 210 Hour MI Certification plan, WFL 170, Chairs 138) The longer period allows time for cultivating the deepening and repeating as the program goes .(For easier presentation and spearing students renew decision at every level.)
Trainer's Qualities
-- There was a new term coined, "gennen" from German, which means wishing good for the students to grow and succeed, believing in them, empowering them as deserved individuals, with no ego credit. In Mind over Medicine (YouTube) Lissa Rankin MD. is saying: It is a fact people heal also with Placebo, what is needed is that the patient feels that the care taker cares for him/her, believes in them and holding for them the health vision.
Differentiation between teacher and Mentor
-- The mentor repetitively keeps contact with the student, for a long period of time, especially when dealing with obsessive physical patterns of functioning.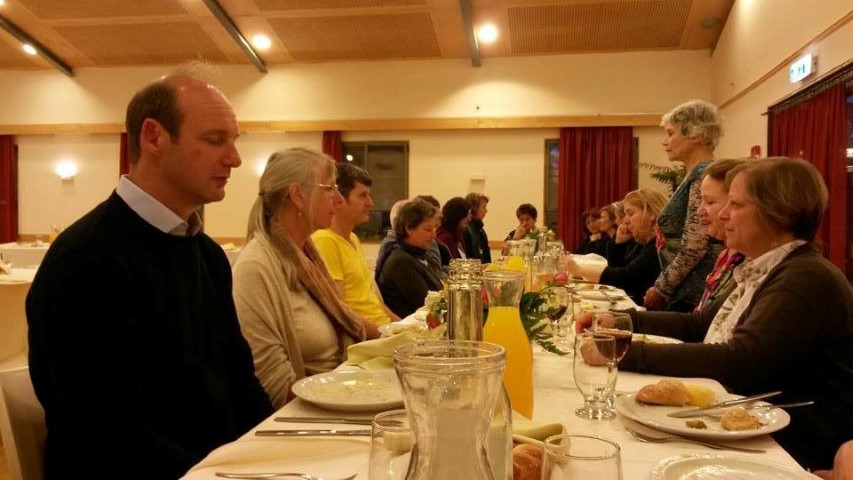 Some of the Administrative issues which were discussed as well.
Defining Functions
-- of the trainer and the country director and the inter-relations between them, for instance: all certificates can only come from central country director. Trainers provide names and addresses DATA to the country director+ small fee for certificates (calculated into their course fee). Certificates are numbered and signed by the Trainer who has taught and the country director.
Writing a paper
-- The importance of writing about the program, any aspect, as one of the prerequisites in applying for the trainer training. Writing upgrades both the writer and the program in the culture. It is not that you know and just put it down on paper, when you start writing you begin to know more.
*Trainers papers by the participants of the STT are posted in the www.movementintelligence.com menu trainers essays.
Research
-- Our gate to recognition. Cynthia Allen and Carol Montgomery assisted by Denise Dieg reported more details about their successful research. Also Giovana Buciarelly from Rome told about the University research of Bones for Life regarding Pelvic floor. both researches are in the stage of pending publication in scientific journals. Wishing you all success and appreciation for your courageous initiative.
Need for committees
-- National Ethical comity to mediate in conflict, without imposing, but supporting people to negotiate together, with follow up, if invited. A safe place to bring complain. encouragement, flexibility, coherent to principles, objectivity, win - win solutions.
Formal Organization
-- The spirit in the meeting was for having connection between countries and agreement on basics, but not hard imposing hierarchy and not consuming bureaucrathy.
A country website and Power point
-- Every country or several on a continent are recommended to have their country site with names of the teachers / trainers, material for members and public, as well as an effective Power Point. Space for sharing, questions, Pictures, announcements, opinions and suggestions.
Using common Graphic templates worldwide (from Ruthy) can re-enforce the MI name in the culture. All are welcome to use any of Ruthy's MI website.
Country directors report
-- Almost all country directors had time to report to the whole group about the MI activity in their country, both regarding courses or special initiatives in promotion of the program . I leave it to the country directors themselves to share it all with the Forum community.
An online group of country directors was recommended for sharing and once a year reporting.
Concessions for Feldenkrais practitioners
-- A suggestion to shorten the study time toward certification for Feldenkrais practitioners. That table crew did not tend to arrive at approval.
The list is longer, and in fact the Senior trainers to be spent long hours, doing their best with passion to upgrade the quality of the program. All conclusions are to be completed and posted for the community later, gratis to Google.
In between discussions we all got up from the chairs, enjoying my short-cut magics, which need to be a must for people who work in sitting. There were a few new ones, especially when the walls in the lovely hall were not appropriate, people stood back to back for live and variant not so objective feedback.
We completed the course Friday midday with a pulse circle, everyone senses the pulse of the person on their right and letting the person on their left to feel theirs. A promise of friendship. There was a development on BFL hug, so people can measure how much taller they got with the hug, I have never seen so many passionate hugging. After an hour we were in the bus , some to the air port and about half starting the high tour, But about this in the next letter,
Love,
Ruthy